Palace Owner/Operator Ring
---
This ring is for all palace owner/operators. It doesn't matter if you're a new, old, adult, or G rated palace; all are welcome to join.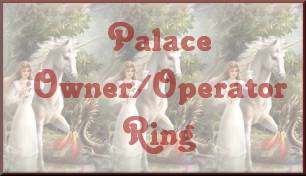 Save the graphic to your own computer and have the fragment in place on the page you submitted within 7 days or you will be removed from the queue.
We are busy people and do not have time to search your site for our ring fragment....so be sure you submit the EXACT page you plan on placing the ring. If you submit your main page...the fragment should be there, not on another page.
If done corrctly, it should look like this. :)
Copyright © Lynn's Doll House 2005